For today's First of the Month, in honor of cookies, family, and all the complexity of  December, I wanted talk holiday recipes. I originally wrote this for a wonderful and now sadly extinct site called GiltTaste, and as the piece is homeless, I brought it back to the blog to live here, along with my grandmother's rugelach, the official holiday cookie of my kitchen. So for today's conversation, I'd love to hear your favorite holiday recipes and the stories that might come along with them.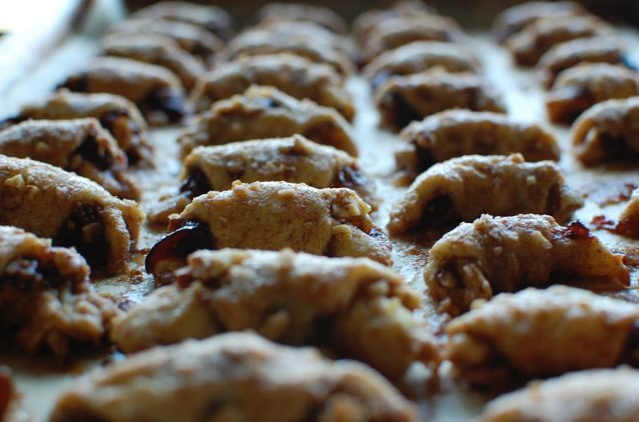 A baker never has to die, not really.
Last week, a woman stopped me on the street to tell me she had recently unearthed her copy of my grandmother's recipe for rugelach. She took my hands and pulled me closer as she described it in detail: the numbered steps, the loopy script of my grandmother's note in the corner, the stains on the page. There are probably a few hundred copies of it out there, each with its own hand-written note. It's a special recipe that gets that sort of circulation. But when my grandmother was alive? I refused to find out how good it really was.
In the mid 1970's, my grandparents Shirley and Irv bought a wreck of a house in the hills of western Massachusetts to open a whole-grain vegetarian bed and breakfast. Although, like other suburban New Jersey parents, they raised their children on steak and potatoes, those children went into the world seeking spirituality through food. Eventually, my aunt, the oldest and most reliable of the three, convinced their parents of the moral superiority of a health-food, vegetarian diet, so Shirley and Irv moved where they could start a garden and spread the gospel.
It was within the brick walls of the inn's kitchen that I learned how to sift flour and peel apples, and my grandparents put me to work serving breakfast as soon as I was tall enough to reach the table. Guests raved about my grandmother's applesauce-sweetened coffee cakes and whole-wheat zucchini breads. Pilgrims of the natural foods movement returned to the inn every year, and they always pinched my cheeks and told me how lucky I was to be the helper of such a baker.
I smiled and nodded. But I hated her whole grain, naturally sweetened baked goods, and I wouldn't touch them. The "treats" that emerged from her oven, I thought, were anything but: health food innovations of grainy flours and fruit sweeteners that smelled like the basement food co-op where my grandmother bought millet and organic raisins. Everyone else loved her sweets, and I couldn't figure out why. I remember walking into parties with my grandmother and it was as if a plate of the cookies had arrived on their own. "The rugelach are here!" people would cheer, and Shirley would hold the platter as they disappeared, one by one, while on their way to the potluck table. Despite all the crazed fans of those nut-filled pastries around me, I made it through my childhood without trying a single one.
I yearned, instead, for "real" sugar, for food eaten for pleasure, not morality or righteousness. My grandfather committed to the natural foods lifestyle with a clear sense of superiority over those who didn't, but my grandmother seemed to find so much joy in the moments where she broke the rules. I was always happy to participate, and together we would eat lobster on my birthday, hot dogs on the streets of New York, ice cream on hot summer days. For my grandfather, I think food was simply a means of making a statement, whereas for Shirley, meals could hold a possibility of thrill and nearly indecent enjoyment. As I grew older, and more easily annoyed, I didn't try to hide my impatience with their relationship to food and to each other. It seemed to me, as I came closer to my teens, that the decision to limit their diet and lifestyle came primarily from my grandfather. I resented the control he exerted over the table, and I lost patience with her willingness to let it happen.
Shirley was more of a parent to me than a grandparent, and so she took the brunt of the eye-rolling and judgment that daughters inflict on their mothers. I imagine that she put up with my rudeness because she saw me come alive when I worked in the kitchen with her. If she was baking, I couldn't stay away. And although I grumbled about the food she put on her table, I loved the table itself, a massive slab of chestnut extracted from the walls of the 200-year-old building, and I loved all that happened around it. Shirley taught me how to set that table with everything in its right place. She loved, above all, to feed people, and that joyful tingling in the hands when placing a meal on the table. We would set the table together the night before, each wearing one of her worn aprons with big pockets perfect for holding silverware as we distributed settings on blue placemats. That chestnut table lives in my own house now, and with every meal, I feel that tingling in my hands.
I was 14 when Shirley's car drifted across the road into an oncoming truck, and our last conversation had been full of my teenage rudeness and exasperation. She and my grandfather had stopped by, and I sat on the couch without saying hello, barely raising my eyes from my book. She asked me what I was reading, and I mumbled some answer, being clear that I had no interest in talking with her.
We found bags of rugelach in her freezer, and her cookies fed the guests at her own funeral. It was comforting and jarring at once, and I imagined her hands shaping each cookie into a crescent, the dough caked around her wedding band. For years, my grief was rolled in with guilt, regret for the last moments of our relationship, stuck in that night that would always be the last time I saw her.
Over a decade after she died, when I was a mother and a baker in my own kitchen, I held Shirley's rugelach recipe in my hands for the very first time. I found it in the shuffle of stuff that ensued after my grandfather died too; it was tucked into a natural foods dessert book held together with a rubber band. The recipe, for "ruggala," as she spelled it, was shoved into the tofu cream pies section, folded in quarters and yellowed around the edges.  I unfolded the paper, and the scent of Jergen's face cream and nutmeg filled my head as if Shirley had stepped up to the counter beside me.
I read the list of ingredients—white flour, sugar, butter, egg yolks, sour cream—and let out a laugh. Where was the whole grain? And the brown rice syrup? Was it possible that for all of those years I had avoided her most famous pastry out of pure prejudice? Of course, no matter what was in the recipe, I would have made it anyway.  Because now, so many years later, after having this time to miss her and dream of how she would have taken my children into chest, her huge breasts surrounding them as she smothered with love, I couldn't resist the chance to have her with me in the kitchen. And so, reading carefully so that I wouldn't put my own spin on it, I mixed the dough. I chilled it, rolled and sprinkled and baked, and then I ate my very first ruggala in all its sweetness.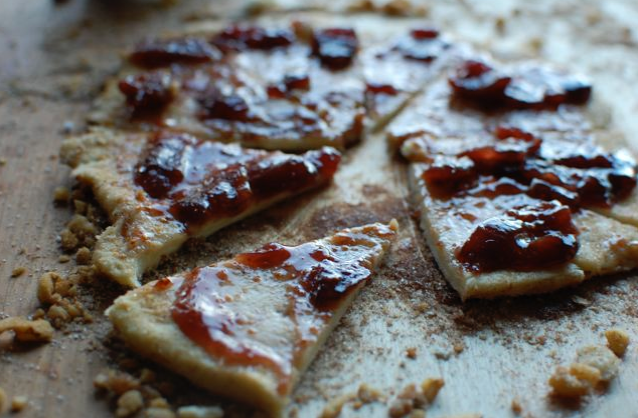 Tweet This