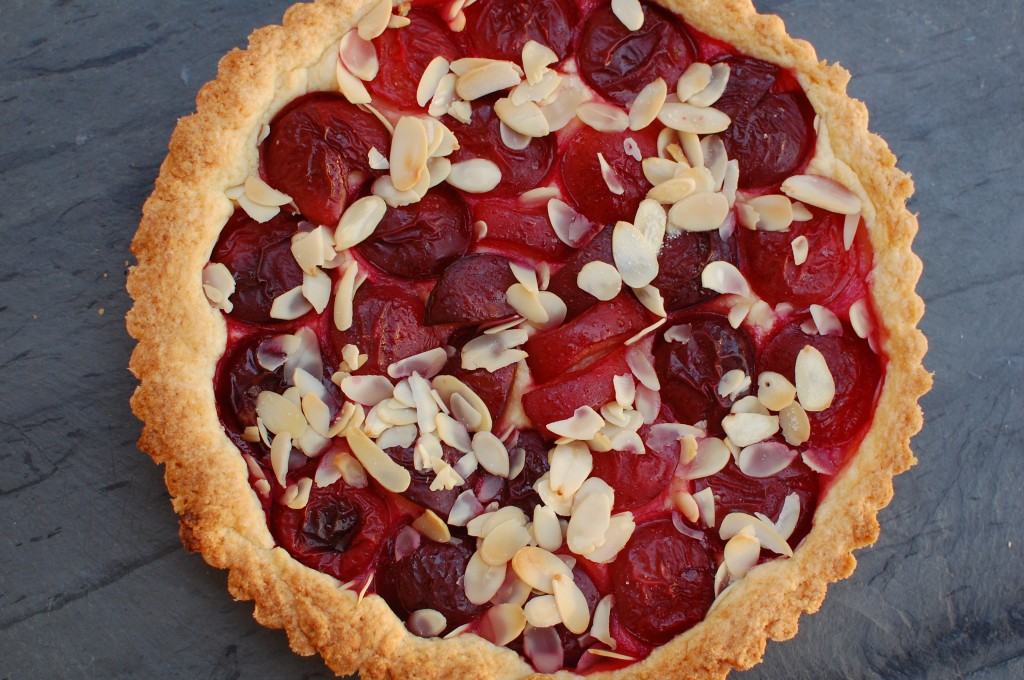 More plums? More sweets? We could have worse things to complain about I'm sure. But I promise there will be other food soon, and I promise we've been eating other things too. In fact for those of you who need savory today and can fly without a recipe, there was a pretty good soup over here a few days ago of summer squash, leeks, fresh ginger, and tomatillos all blended with stock and buttermilk. Oh, that was so good! But I couldn't not share this tart, and plum season is almost over…so-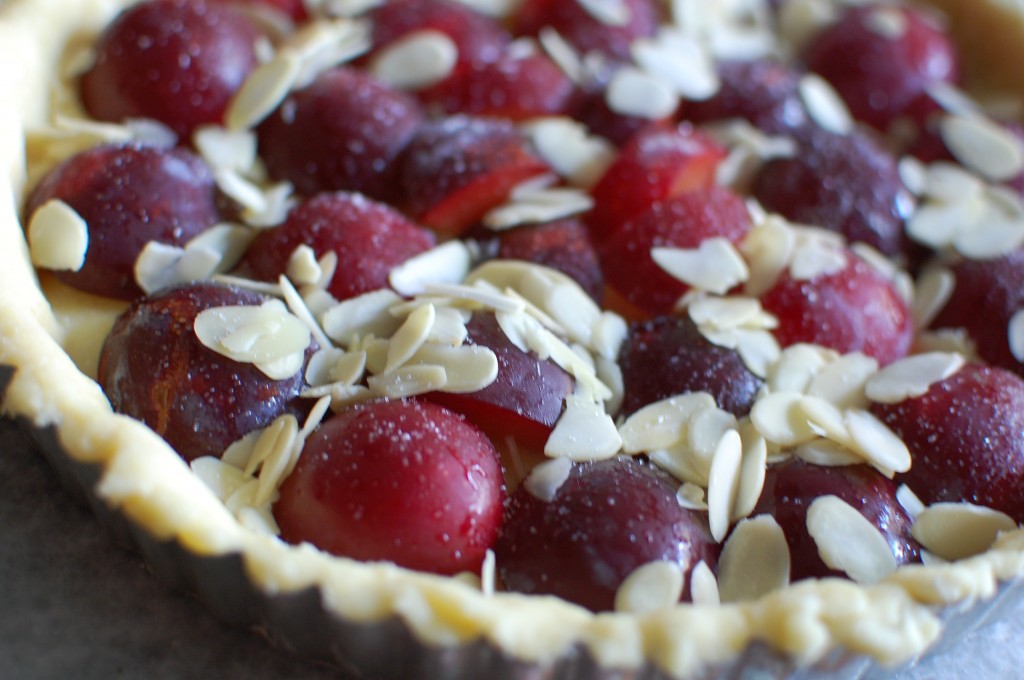 We are back to school this week. I always have this fantasy of a moment before big things begin (like second and fourth grade!) that I will have the world calm and clean and organized for a moment before it starts. I imagine straightened rooms, folded clothes,  backpacks with no remnant whatsoever of last year– all like a blessing before the meal, before we eat but after we have cooked. Instead, on Monday, that day before school began, we roasted green chiles all day with our friends Ben and Emily. We ate chiles and wandered in the woods and ignored the backpacks and lunchboxes and we said goodbye to the summer.
I have no regrets.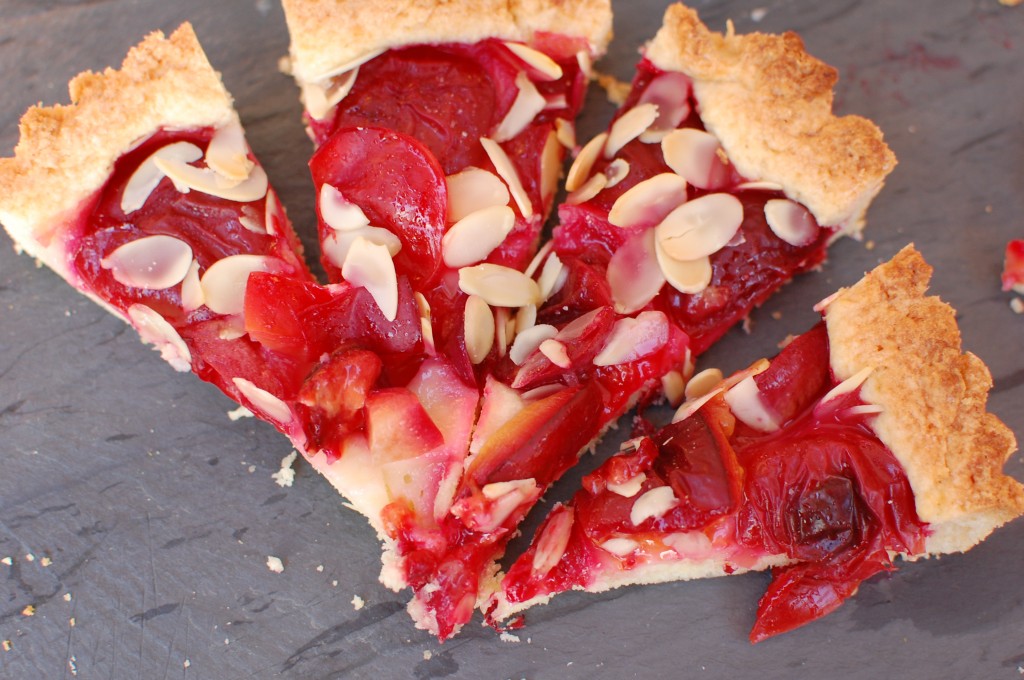 This recipe was given to me by a woman at the farmers' market in Istanbul. Marianti had a stand in the corner where she assembled the most beautiful Turkish breakfasts of eggs boiled in a little pot, spreads she had made the night before, and bread and dates and honey from the stands nearby. Molly and Aurel had sent me over there with the promise that her plum tart was one of the greatest treats at the market, and when she sliced me a piece, I could see that it was that thing she made, that food of which she was most proud. She shared the recipe right away, and it was that wonderful sort of list where she assumed I already knew how to make it–mix a little of this with a little of that, prepare, press, bake, and be done with it. It's that kind of recipe really, one where it's just a simple crust topped with plums (or plumps, as she wrote in her recipe–so I call this "plump tart" in my mind), and so if there were ever a chance to bake on instinct rather than a recipe, this would be a good one. I came home and gave it a shot, and the end result was terrible- a tough crust under tasteless fruit. It was, after all, March, which is just about the worst time to make a plum tart. So I put it away with the promise to return when the plums were here.
Three plum seasons later, here it is. Maybe I've become the baker Marianti thought I was when she passed the recipe along. Or maybe it's just that it's exactly the right time to find the recipe again. It's been too long for me to remember if this is indeed the tart of the Istanbul market, but it is so good, and the tart of right now and right here, which is where I am happy to be. We ate this with a little spoonful of whipped cream on Monday, the burn of chiles still in our mouths, and it soothed and cooled with all its tart sweetness. The crust is cake-like with a hint of shortbread, and it swells around the fruit to hold its juice. I made a tiny tart with the leftover crust too, and the girls ate it for a snack after their first day of school. Disorganized I may be, but I think they've eaten something special after every first day of school year after year, and so I'll be happy with that and take my wins where I can get them. That, and an extra slice of plum tart.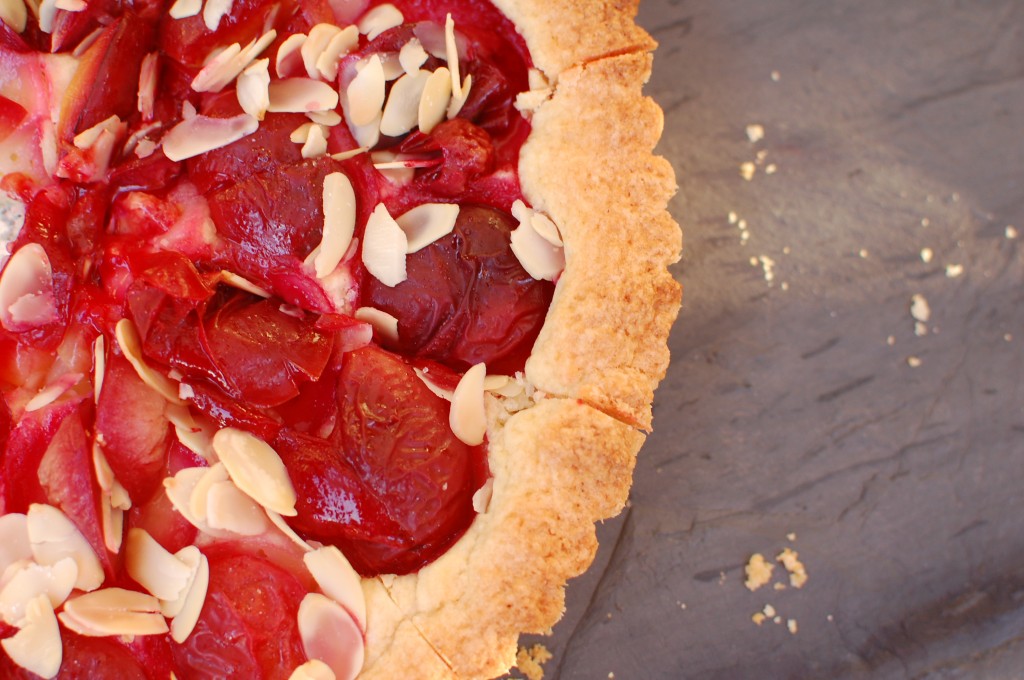 Tweet This