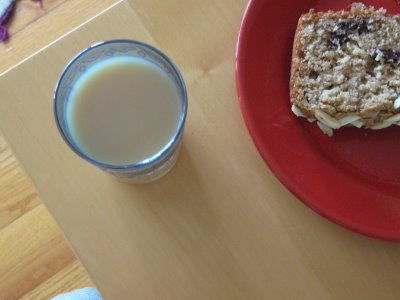 When I was little, my mother used to tell me about my greatness a lot. I was never spoiled materially, but if there is a way to spoil with love or confidence, I'm certainly a result. But if material spoiling is a rancid milk sort of thing, I'd like to think that the other kind of spoiling is more like what happens to raw milk- changing the flavor, making it more rich and better for cooking. Am I taking the image too far? Maybe, but stay with me for a minute here.
As I became accustomed to thinking about all of the great and wonderful things I would achieve, the people I would help, the timeless art I would create, I got attached to the idea. I internalized it, and it started, as is wont to happen with anything in a Jewish woman, to morph into anxiety.
Will I be great? How will I be great? When will the great stuff happen? Maybe I'm not so great after all? Mom! You get the idea.
As life has continued to have its way with me, I may be starting to see that greatness really varies its magnitude. No novels have fallen out of me, I'm haven't found my niche working with Afghan orphans (like others I know), and I've yet to really think of anything new at all. I know, there's time. But without letting go of my high standards, I'm starting to think of the greatness of smaller moments. A kid who goes to sleep happy. An artichoke plant that's really growing in my garden. Tea. The list could go on and on. In fact, be my guest.
What does this all have to do with banana bread? Do you always need there to be a connection between my random musings and the recipe I share? Fine. This time it's easy.
Banana bread is something that almost everyone has in their repertoire. When the bananas get mushy, there's smoothies and there's banana bread, and if you have ten minutes to spare, it better be banana bread. What's more ordinary than a mushy brown banana? But banana bread spans over the entire family of cake- it's a breakfast muffin, a tea cake, sometimes it's even a wedding cake. It's greatness out of the ordinary. It is a perfect thing available to us all.
I've made a lot of banana bread recipes. This one is the best I've found. It's very loosely based on the recipe from The King Arthur Flour Baker's Companion (speaking of greatness), but I've made some changes and kept them permanent. I use spelt flour because I like how it goes with the bananas, but feel free to change it to all purpose if that's all you've got.
Banana Bread
loosely adapted from The King Arthur Flour Baker's Companion
makes 1 loaf
2 eggs
1/3 cup maple syrup
1/3 cup canola oil
2-3 ripe bananas
2 tsp vanilla extract
1 tsp baking powder
1 tsp baking soda
1 tsp salt
1 tsp cinnamon
1/2 tsp nutmeg
2 2/3 cup spelt flour
1 cup whole milk yogurt
3/4 cup semi-sweet chocolate chips
1 cup slivered, blanched almonds
Preheat the oven to 350 degrees. Butter a large loaf pan.
In a small bowl, beat together the eggs, oil, maple syrup and vanilla. In a larger bowl, mash the bananas entirely. Pour the egg mixture into the bananas and stir until entirely combined.
In a separate bowl, sift together the flour, baking powder, baking soda, salt cinnamon, and nutmeg. Then sift it again, and whisk it a bit too.
Pour the flour mixture into the banana mixture and stir just to combine. Add the yogurt and chocolate chips and stir in with a few swift strokes.
Pour into the prepared pan and top with the almonds. Bake for 45 to 50 minutes, or until a butter knife comes out pretty clean.