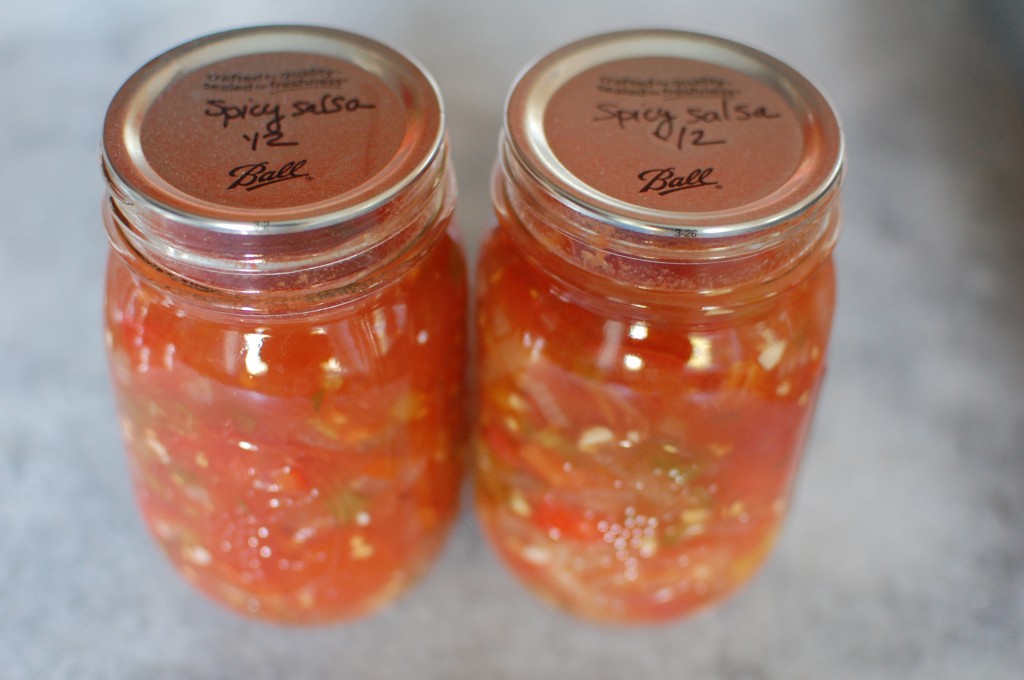 A little ways back, Theresa Loe drew my attention to piece I hadn't seen before, an article for Slate entitled Can It: At-Home Preservation is Ridiculously Trendy. Food writer Sarah Dickerman talks about the "drudgery" of canning and the fervor of tattooed hipsters when it comes to those home-filled jars. And, like Theresa, there was one particular statement in the piece that stood out most for me.
…Let's be honest: It's not about producing serious food for the future, and it's not about shaking a fist at industrial food. (After all, it's not Claussen and Heinz that eco-conscious consumers worry about so much as suppliers of meat, milk, and produce.) Rather, it's about making and sharing delicious, idiosyncratic things that are also, not insignificantly, very pretty.
I won't lie. Most of you know I'm a bit of a swearer, and I let out a few at my computer when I read this.On many points, Dickerman is right. There is a resurgence in canning enthusiasm. This, combined with the huge community of people sharing their excitement about what's going on in their kitchens–the result is that there are a whole lot of beautiful pictures of jars out there right now. Canning swaps are gaining in popularity. Mason jars have taken their place as the vase of choice on most wedding tables. People are learning how to can, not from their grandmothers, but from books and websites and friends. Some of these people have tattoos. (And yes, I do.)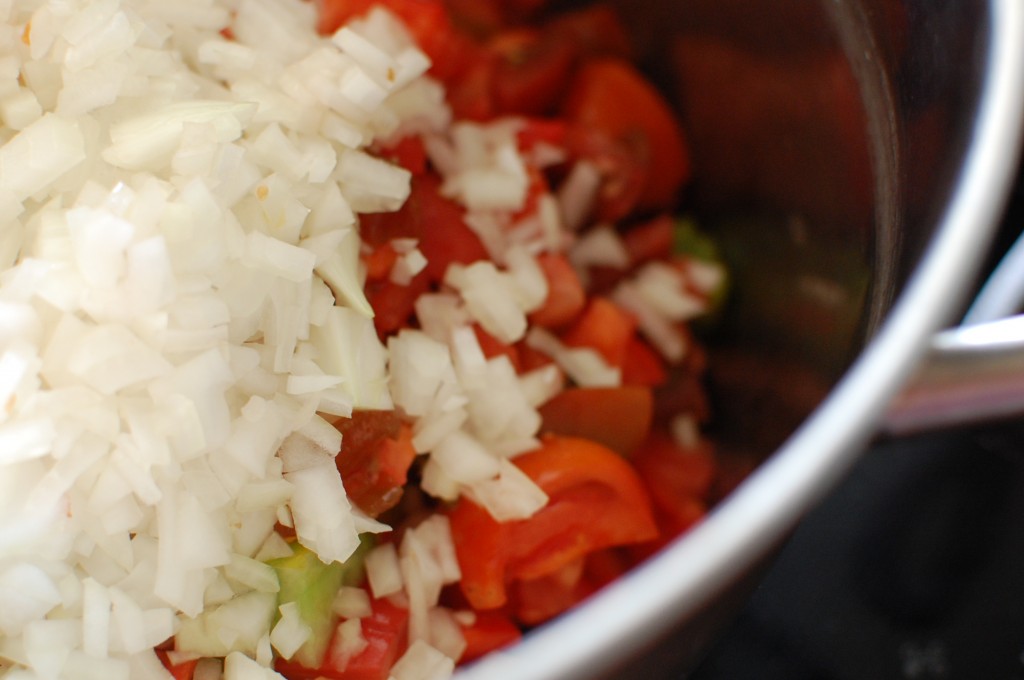 However, I've got to take issue with what seems to me to be a dismissal of the power of the individual kitchen. Of course, it doesn't have to be a jar. It can be a freezer bag filled with corn for the winter, or a loaf of bread rising for tomorrow's school lunches. But whatever the product, every time someone is drawn to incorporate real, whole, and homemade food into their lives, you better believe they're shaking their fist at industrial food. Because those acts of filling, preserving, creating, feeding–I really do think it's the actions themselves that create change. The jars are pretty and the contents are delicious, and that seems to me to be enough of a reason to give it a shot. But for me, the real capacity for change comes in the events that come after we fill the jar. If I can do this, what else can I do? What else can I make and create?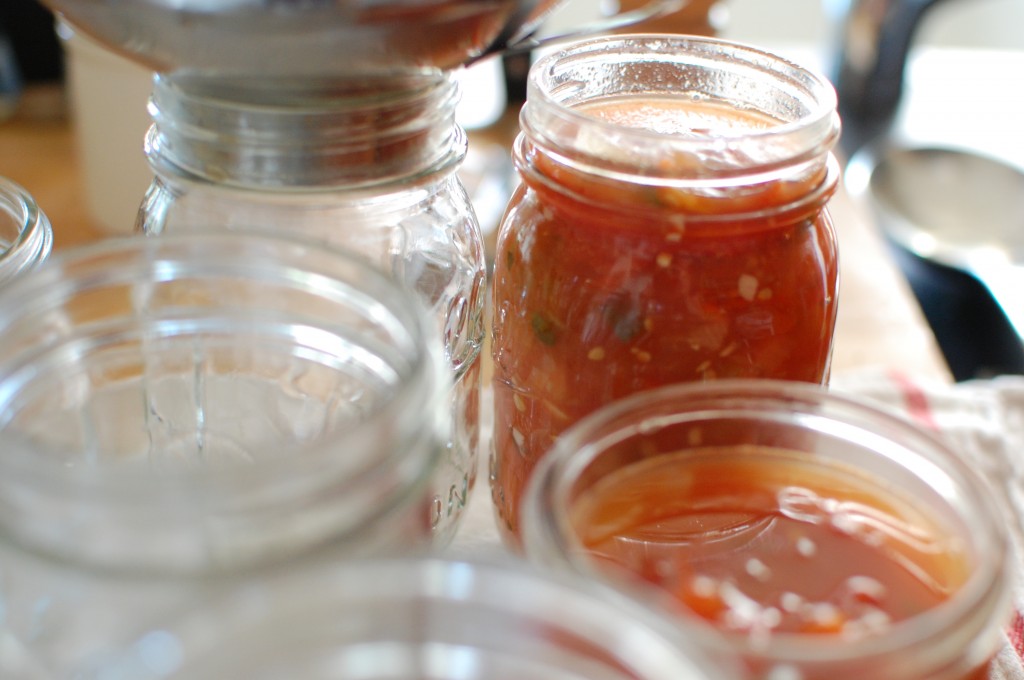 Not bad, for a few jars and an hour at the stove. And I think it's a serious mistake to underestimate the power of an individual making food they love in their own kitchen.
When it comes to filling jars, there's also another aspect to it all–what I can only describe as the community piece. I've done a lot of canning with groups of other people. I've learned so much of what I know from the other canners with whom I've stood at the kitchen counter, and all the conversation and experience of those days has gone into the jars with the chutney and applesauce to be reopened later when I need it most. But even when I'm canning alone in the kitchen late at night (as I think many of us do), I feel a community around me in a way that's different from when I'm making dinner for my family. There's a body of knowledge I'm tapping into, friends I call when something goes awry, books in my kitchen that have been marked and spattered by jam and pickle brine. It's a community of people who are taking their food into their own hands, and again, I'd be careful not to underestimate the power of a community. I was talking to Joey the other day, trying to find the words on this one. "When in doubt," he reminded me, "quote Howard Zinn".
We don't have to engage in grand, heroic actions to participate in the process of change. Small acts, when multiplied by millions of people, can transform the world.
I think you're making a difference. I think you're creating change. And that community around you supporting and helping you put all that love into your food (whether it goes into jars, bags, the pantry, or the freezer)–that community is creating change with you. Your community might be your friends, your family, online community, your cookbook shelf, but wherever it's coming from, we're all rooting for you.
As for what fills that cookbook shelf, many people will tell you that the only canning book you need is the Ball Complete Book of Home Preserving. I'd add The River Cottage Preserves Handbook to that list, which I've canned my way through several times over (and it satisfies my Britophile kitchen tastes). But this summer, I've got a new book for the list. I've been bringing this book to events with me, so that when canning comes up in the conversation (both from those who do and those who don't love to can), I hold up Food In Jars. If canning is your thing, Marisa has all sorts of new recipes for you. If it's not and you wish it were, this is your book, too. Marisa integrates canning into the kitchen in a way that is so entirely accessible, focusing on small batches and explaining the process so well. If you've spent any time reading Marisa's blog, none of this is a surprise to you. She's been writing and teaching for years now, and I can't even imagine the numbers of people who have filled their first jar after coming into contact with Marisa, either in person or online. I had the great pleasure of taking one of Marisa's workshops this summer, and not only did I walked away inspired and dreaming of how I would fill all the empty jars in my basement, I went home and and actually filled them.
I was torn about which recipe to share here, only because there are so many good ones in the book. But because my mind is on that quiet revolution (shaking a fist!), I'm going with the recipe that rocked our kitchen, salsa. Because I have NEVER found a recipe that I can safely can that meets our standards–until now.
Thank you, Marisa. Thanks for rooting for us, for patiently answering questions, and for helping to inspire so many to put food (and love!) into jars. And thank you for this salsa, which is chunky and spicy and wonderful in the best of ways. Are we shaking our fists at industrial food? I think so. And we'll eat well through the whole revolution.
Note: Marisa is a friend of mine, and her publisher was kind enough to send me a copy of her book. My opinions are very much my own, and absolutely from my heart (and my belly).
Tweet This