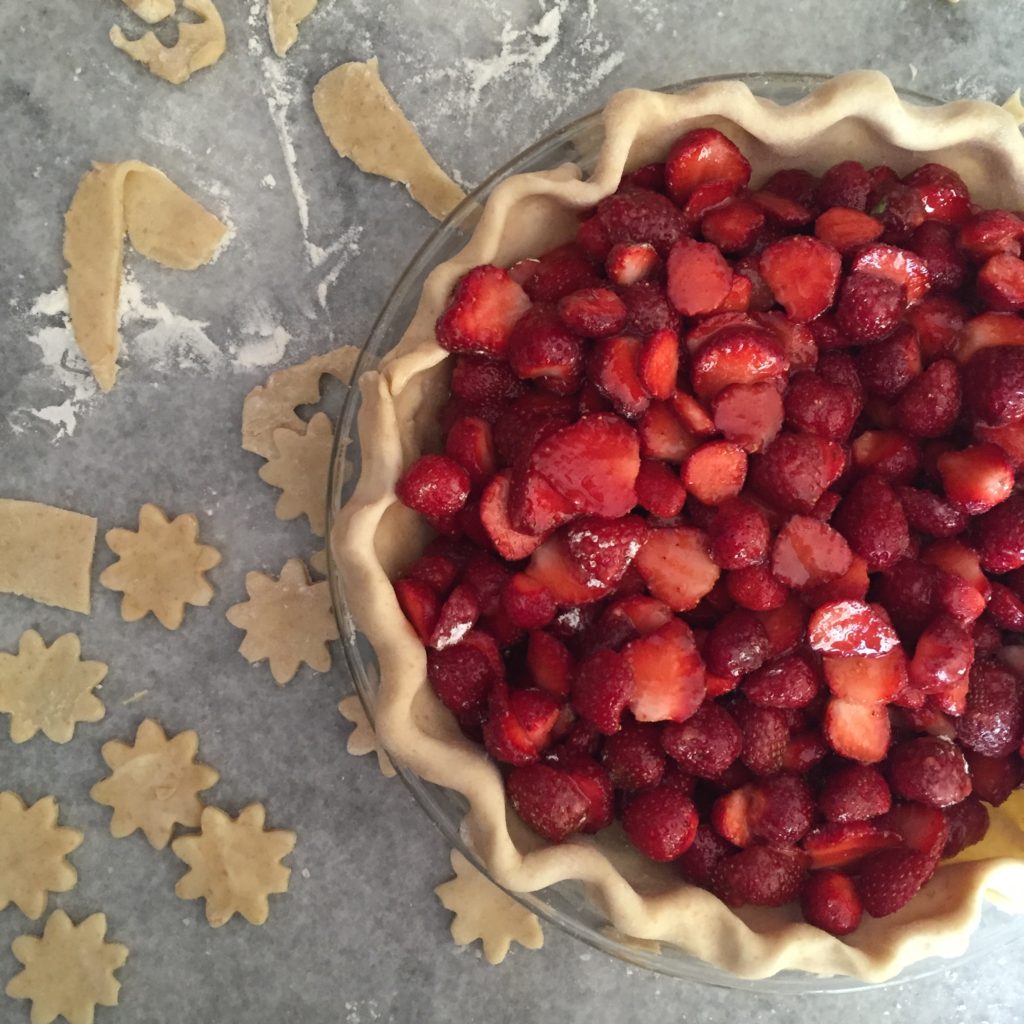 Happy July.
I'm guessing that you might want to be more off your computer than on these days, so I won't keep you long.
It's summer around here, which means that everything changes and the house gets very messy. I'm down one kid at camp (the Unitarian anarchist sort), and I'll have her back in a few weeks and then I lose the other one. In the mean time, I have a book due in a month. It's about vegetables, which you might have gathered if you've been over there with me on Instagram. So we're eating well.
The only reason I actually believe I will have this very not ready book ready in a month is because I've done it before. Last time I ended up writing 80,000 words in 3 weeks, and that worked out fine. But any prayers and wishes of clarity and focus are very welcome.
We are spending a lot of time at the river with our funny little river-loving dog, and free berries are ripening all over the place, which means I've already made multiple pies. So that's a success. (Although what a funny thing that summer is the best time to make pie? The secret is to embrace the freezer. Any time that pie making takes a pause, put that in-process pie in the freezer.) Also, coarse sugar on the crust.
Speaking of pie, here's a good crimping tutorial from my girl Erin McDowell. (She's the one who made that gorgeous plum tart on the cover The Homemade Kitchen, as well as every other thing in that book.)
Joey and I saw this movie last week, and it was hot and gorgeous and smart and fantastic. If you saw I am Love, it's related, and if you haven't seen I am Love then see that too.
I read this book on the beach when we went camping a few weeks back and I cried my eyes out. I do have a little dog so that makes my heart very open to stories about little dogs, but really- it's a great, quick read.
After a few days of me moping around the kitchen feeling sorry for myself, Joey made me a summer mix. It's helped, as they always do. It's all good, but my favorite stuff on there is this, this, this, and this.
I wrote about homemade vanilla syrup on Tastebook this month. If you've been making cold brew concentrate (page 233 of The Homemade Kitchen, if you were looking for it), this definitely fancies it up a bit. Also delicious in plain old bubbly water.
I have a few classes coming up. The first is at Stonewall Kitchens in York, Maine on August 6, and you can register here. The last time I taught there was in a blizzard and it sold out anyway, so sign up! Hopefully it won't be snowing, and what a good time to be in Maine, right? Then I'm teaching Labor day weekend at Home Chef in Hillsdale. Info and sign up will be up on their site soon.
Of course I have my head in politics and the world is feeling very off kilter. I am watching, listening, anxious to see how all of this (and I mean ALL, because there seems to be so much right now) will play out. I listen to this as a bit of a guilty pleasure because there's such a joy in hearing smart people argue, and also some of my favorite political conversations have been on this show.
Tell me what's new with you! What are you cooking? Listening to? Reading or watching? I'm  all ears. xo